Home Buying
As an Accredited Buyer's Representative® (ABR®), my job is to represent your interests in a purchase transaction. What do I do? I assist you with obtaining financing, finding the right property, educate you on market conditions, guide you through making an offer and representing you and your interests in negotiations, get you to closing and serve as your trusted real estate source.
Buying a home is a personal and emotional experience that can be exciting and frustrating. It takes time, dedication, and education. Having someone in your corner, guiding you through the process while protecting your interests is very important.
You may be tempted to look at listings at online real estate sites and contact the listing agents for more information. It may be true that the listing agent knows the house better than anyone else. It may even be true that they have never set foot in a house they have listed. Some agents have large teams that include listing partners who go out and meet with the sellers, photographers who take the pretty pictures, home stagers who arrange the furniture, and a host of others. The listing agent puts their name on the sign and waits for the phone to ring. Sometimes it is not until an offer is received that the listing agent talks to the seller directly.
Contacting the listing agent is not to your advantage. In some offices, you will be funneled to a buyer's agent who works for the listing agent. Whose interest do you think they represent at the end of the day? Imagine going through a messy, complicated and costly divorce. Would you just let your soon-to-be ex-spouse's attorney represent you? That doesn't sound like a good idea, does it? The same goes in buying a home. Why trust the largest purchase you will ever make to someone who doesn't truly represent you? Best of all, it won't cost you any more for my representation than if you chose to work with the listing agent (who represents the seller's interests, not yours).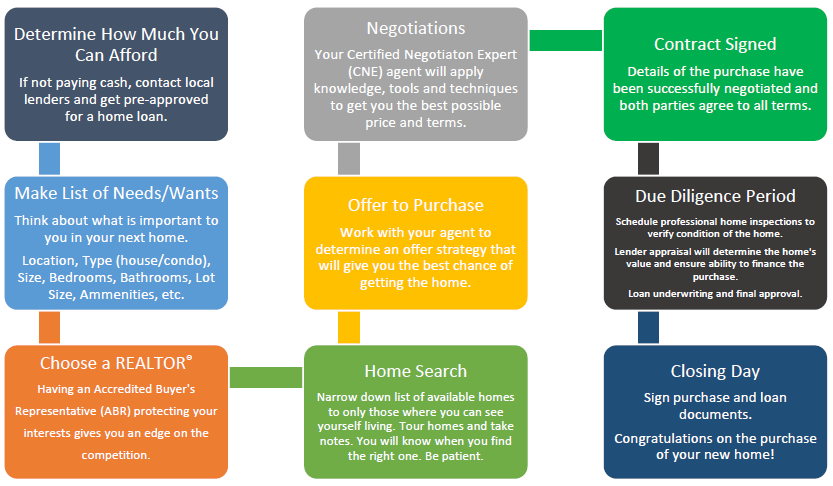 The Buying Process
What Steps are involved in the Home Buying Process? Here's a quick guide.
Getting Help: Start your home search by establishing a working relationship a qualified REALTOR®. You found me, so you're off to a good start.
Become Financially Pre-approved: Begin your home search knowing you are approved to buy. Become pre-approved for your mortgage with a lender of your choice. If you need a recommendation, I have some great local lending partners who are ready to help.
Determine Your Needs (and wants): I will help you define your specific housing and lifestyle requirements and will show you homes which match your needs.
Make an Offer to Purchase: Once you've found the home of your dreams, I will advise you in preparing and present a written offer to purchase to the seller. The seller either accepts or rejects your offer, or makes a counter offer.
Negotiations: You and the seller agree to all the terms of the purchase.
Sale Contract is Fully Executed: I will oversee the contract of sale to assure proper execution and to make sure your interests are protected.
Formal Mortgage Application: You will contact your loan officer to formally apply for your loan.
Inspections: At this time, the various home inspections you have elected will be scheduled. These may include inspection by a qualified home inspector, pest inspector, environmental inspector and others.
Ordering Title Insurance: I will make sure that clear title verification and title insurance for your new home is ordered and review the commitment with you.
Follow Up On Financing: I will follow up with your loan officer on all details regarding the final mortgage commitment.
Final Mortgage Approval: Review the terms with your loan officer, sign and then return to your lender.
Purchase Home Owner's Insurance: Obtain homeowner's insurance, which is required by all lenders, prior to closing. Don't worry, this will be paid for at closing.
Confirm Closing: I will work with you, the seller's agent, your lender and the title insurance company to establish the desired date and time of closing.
Transfer of Utilities: It is customary to transfer utilities into your name as of the closing date. This should be done prior to closing.
Confirm Closing Costs: Get the final closing costs from your loan officer.
Closing Day: Bring your homeowner's insurance policy, a certified check for closing costs, and your checkbook for any potential incidental costs. Also, don't forget your driver's license or state issued photo identification.
You're Home: Congratulations! Title has transferred, you will receive the title and keys to your home.